Our Clients
Everything you want to know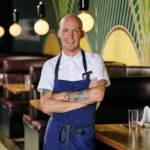 CHEF/OWNER OF LA BANANE RESTAURANT
Before opening La Banane in January 2017, Brandon spent two decades working under some of the world's top chefs – including two years with Chef Thomas Keller at his French Laundry and Ad Hoc restaurants. At age 25, Brandon was honored with Thomas Keller Restaurant Group's "Core Award," given annually to the TKRG employee that most exemplifies the core values of the company. After two years in Napa, Brandon returned to Toronto and rose to become chef de cuisine at Toronto's Black Hoof Restaurant, and later Bar Isabel – two of Toronto's most celebrated restaurants. During this period he honed skills in butchery, nose-to- tail cooking, charcuterie and Spanish cuisine, but classic French was always his passion. After two fruitful years at Bar Isabel (and helping it win Canada's Best New Restaurant from EnRoute Magzine) he moved on to carve his own path. Inspired by his time observing the chocolatiers at the French Laundry, Brandon became a self-taught chocolatier and in October 2015, he opened CXBO together with artist and filmmaker Sarah Keenlyside. Their colourful, geometric, handmade confections were an instant hit, and earned them a 2017 Design Award from Wallpaper Magazine and two Canadian International Chocolate Awards. A year later, he and Sarah partnered with Toronto restaurant group King Street Food Co. and opened Restaurant La Banane, which was awarded the honour of Canada's Best New Restaurant of 2017 by Canada's Best Restaurants Magazine. La Banane is lively, 88-seat, pop art-filled French restaurant that features Brandon's playfully reimagined Classics and an extensive raw bar. Favorite dishes at La Banane include Tuna Crudo with Capers and Brown Butter, "Liver and Onions" (chicken liver mousse with braised cipollini onions and hen of the woods mushrooms), Eurobass en Croute with Yuzu Beurre Blanc, and the wildly popular Ziggy Stardust Disco Egg, which is made by CXBO. These abstract, hand-painted dark chocolate eggs are lined with unique flavor combinations (such as ancho chile, coffee and dried apricots) and filled with 67% dark chocolate truffles. Guests are invited to smash the eggs with a gold spoon, which has contributed to their popularity both in the restaurant and on social media. In its first year, the dessert was frequently referred to in the media as the "most instagrammable dessert of 2017." Brandon and Sarah's next project is a 40 seat cocktail and wine bar located above La Banane that will serve smaller bites, but still in the French classic style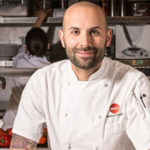 CHEF DIRECTOR OF THE KING STREET FOOD COMPANY & BUCA RESTAURANTS
A first generation Canadian, born to Italian parents, Chef Rob Gentile's earliest memories are from his grandmother's garden and kitchen. Combining those skills learned at home and a passion for food, Rob took his first restaurant job at the age of 13. He inherently knew his career would revolve around food and after working in restaurants throughout his teenage years entered George Brown's Culinary School. By 18 he found his first role in a professional kitchen at North 44, under celebrated Chef Mark McEwan. After just 10 years, he advanced from line cook to Chef de Cuisine at McEwan's top restaurants and joined Peter Tsebelis and Gus Giazitzidis at The King Street Food Company to take the helm at Buca. Opened in 2009, Buca quickly became one of "Canada's Best" and a highly sought-after dining destination. Rob Gentile, now Chef Director and Partner of The King Street Food Company's collection of restaurants, has earned critical acclaim for his disciplined craft, determination to source unique, local ingredients and visionary approach to Italian cuisine. Since Buca's opening, diners and critics alike have taking note of Rob Gentile's culinary direction and creativity, resulting in Canada's 100 Best naming Buca Osteria & Bar (Yorkville) second in the country (2016), honours from the Ontario Hostelry Institute's Gold Award for Independent Restaurateur (2015) and a prestigious Pinnacle Award from Foodservice and Hospitality naming The King Street Food Company 2014's Company of the Year in Eastern Canada. The Buca collection has grown to four locations across Toronto, each with a unique offering and atmosphere, with a fifth Buca concept set to open in 2019.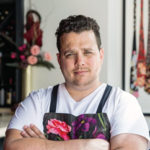 CHEF
Victor is a born and bred Ontario chef. His work ethic, passed down from his father, has driven him to his position as one of Toronto's premier chefs. He has honed his culinary skills around the world and has made an indelible mark on Toronto's restaurant landscape. As Chef-Owner of Piano Piano Restaurant, Victor is once again forging new ground on the culinary scene. While he remains focused on finding the magic inherent in every single ingredient; he is allowing himself and his guests a chance to slow down and savour experiences that come with great food, great wine, and each other. Victor's desire to give his guests a singular culinary experience in Toronto will never change, though the way he does that has. At Piano Piano Restaurant, Victor and his family welcome you to their ideal Italian restaurant, where your hunger is sated and soul is nourished. piano, piano va lontano – slowly, slowly we go further.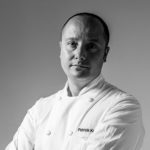 CHEF
atrick Kriss. From Scarborough, Patrick trained at George Brown College and began his career at Auberge du Pommier. A move to New York found him working as sous chef under Daniel Boulud at his eponymous, Michelin-rated restaurant. When Daniel closed for renovations, Patrick moved to France to the kitchens of Régis Marcon and La Maison Troisgros. Upon returning to Toronto, he was chef de cuisine at Splendido and then chef at Acadia, for which he garnered rave reviews. In 2015, as chef-owner, Patrick opened Alo, which was awarded a rare four stars in the Globe & Mail and named Toronto's Best New Restaurant in Toronto Life magazine. He was named Outstanding Chef of 2017 (repeating again in 2018 and 2019) by the Canada's 100 Best Restaurants publication, the same year Alo was titled Canada's Best Restaurant. Patrick opened Aloette in 2017 and Alobar Yorkville in 2018. In 2019, he will open Salon, a private dining space in Yorkville.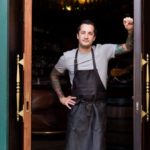 CHEF
Grant Van Gameren's rise towards one of Canada's most celebrated chefs began shortly after opening The Black Hoof in 2008 where he launched several ambitious and controversial menus, inviting guests from all over the world to revel in a culinary world they either missed or were missing out on. Van Gameren's plight for continuous advancement directed him away from the Hoof, towards worldly travels, where he was heavily influenced by the food and dining culture of Spain, eventually producing the desire to build the internationally recognized Bar Isabel, proudly expressed as 2013 En Route Magazine's best new Canadian Restaurant. Hot on the heels of Bar Isabel's success, Grant hired the budding architect firm Partisans to design one of the worlds most beautifulest bars known as Bar Raval. Raval has won numerous design and best restaurant awards since it started serving day and night tapas in 2015. 2016 saw van Gameren open his third, fourth and fifth establishments, El Rey Mezcal Bar, Prettyugly Cocktail bar and Harry's Charbroil. Three unique concepts ranging from Mezcal and Mexican in Kensington market to American burger dive bar in the heart of Parkdale. Known for his rejuvenation of restaurants lost in time, Grant took over Tennessee Tavern, a 60 year old restaurant that had seen numerous owners over the years and transformed it into an Eastern European Tavern serving snitzle, cevapi and cabbage rolls along side some of toronto best mix of brass bands playing hip hop, polka, and gypsy rock. In 2018, Grant will be launching Victor Dries, his curated event and catering company alongside long time friend and partner Chris Brown redefining the way people think of catered foods. We will also see the official openings of Rosalinda, a vibrant new vegan Mexican eatery in the downtown toronto financial core as well as the long time coming, Quetzal, a dive into indigenous Mexican cuisine with chefs and co-owner team Julio Guajardo & Kate Chomyshyn. Quetzal will be another establishment designed by Partisans Architecture with a menu cooked exclusively over 26 feet of open fire. Image ©Norman Wong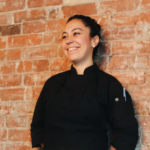 CHEF
Elia Herrera, Executive Chef, Los Colibris. Born in Cordoba, Veracruz-Mexico. From a very young age, Elia was exposed to fascinating world of authentic culinary influences. Growing up, culinary exploration was encouraged in her home, since her grandmother initiated a catering business at the young age of 16th, a pioneer in the industry that reached all levels of clientele from Mexican society, celebrities, Presidents, Ambassadors and Governors of Mexico to the Kings of Spain passing the business through generations, sharing her expertise, knowledge and passion for not only traditional Mexican cuisine but International as well. Elia has followed her roots and has brought the tradition of authentic Mexican cuisine to Canada. Next steps, her family wholeheartedly supported Elia with her passion to delve into the culinary industry. They enthusiastically supported her in enrolling at The Culinary Institute of Mexico. Elia graduated as an Executive Chef with specialization in Pastry. Taking bits and pieces from her training abroad, having perfected her craft in countries like Spain, France, Belgium, Italy and Canada, Elia puts a little bit of herself in every dish she creates. She has been fortunate enough to work with some of Barcelona's top Pastry Chefs, including Jordi Butron, Xano Saguer, Walter Volt, and Ricardo Martinez. Elia came to Canada in 2003, and immediately put her skills to work. Like any good recipe, success is a product of good ingredients. Passion, dedication and extensive knowledge has led her to where she is today. She is inspired by her grandmother Luz Del Carmen Dominguez de Herrera and mother Elia Del Carmen Herrera Dominguez as well as Pastry Chef Paco Torre Blanca.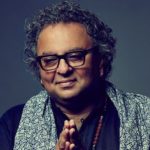 CHEF
Vikram Vij was born in India in 1964 and lived in New Delhi and Bombay until the age of 20, when he went to study, live and work in Austria. Vikram moved to Canada in 1989 to work at the Banff Springs Hotel in Alberta. In September 1994, Vikram opened Vij's Restaurant in Vancouver, BC. In early 1995, a passionate and a creative Meeru Dhalwala joined him, and the two began collaborating on the menu. In 2004, Vikram and Meeru opened a second restaurant and market called Vij's Rangoli. In June 2014, Vikram opened his third restaurant, My Shanti, based in South Surrey. The theme of My Shanti is based upon Vikram's culinary travels, and includes flavours, ingredients and influences from all over the world. Vikram Vij is a tireless advocate of Indian cuisine in Canada, and of buying and eating locally produced and sustainable ingredients. He considers it an honour to be able to speak about his life, his experiences and his background to audiences around the world.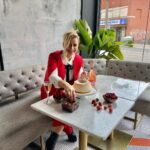 CHEF
Chef Ivana Raca has already achieved unparalleled success in what has traditionally been a male dominated field. The first female to hold the position of saucier in any of McEwan's kitchens, Ivana received another promotion making her sous chef on the team that opened ONE Restaurant by the age of 23, Ivana was selected as the first female Executive Chef for the six million dollar food emporium McEwan Foods at the age of 24. Ivana managed a kitchen brigade of 45 cooks & catering. After a 10 year run with Mark McEwan, Ivana Looked for more challenges. In 2012 Ivana traveled to Australia's Gold Coast where, for two years she worked under Two Star Michelin Chef Paul Froggatt at the Palazzo Versace. Upon her return to Canada, Ivana opened her first restaurant "Raca cafe & bar". That same year her restaurant won the "best new restaurant" award with Now magazine and made Canada 100 best restaurants at #88. Her competitive spirit was most recently on view on the Food Network's "Beat Bobby Flay". He quoted the best gnocchi he has ever had. In 2019 Ivana battled on Iron chef Canada with Rob Feenie with the youngest team ever to appear on Iron Chef. She is now a proud partner at all female-run Ufficio restaurant and has recently opened Resto Boemo and Chef's Table with Brad Smith at Assembly Chef's Hall where she servers up the gnocchi that beat Bobby Flay & Toronto life's #1 burger in the city! Ivana is a cofounder of Open Kitchen Toronto, a dining series supporting women within the culinary industry, benefiting the OKTO female culinary scholarship.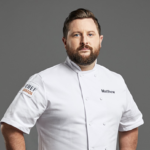 CHEF
Chef Matthew Sullivan oversees all MLSE properties and restaurants. He started his culinary career attending and graduating from Stratford Chefs School. Since then, he has obtained a tremendous number of accolades over the years. He has staged in restaurants all over the world–across Asia, Europe and North America. With these experiences, his passion for cooking and love for food grew even stronger. This allowed him to eventually become a Chopped Canada champion and a competitor on season 6 of Top Chef Canada with an impressive showing, being a front-runner of the show. Chef Sullivan's career at MLSE started over four years ago, where he was instrumental in pushing the food program at Real Sports and the Arena's quick service locations forward at an exponential level. Now in his role as Corporate Executive Chef, Chef Sullivan supports the Culinary Director, Chris Zielinski and their team of talented chefs to continuously grow MLSE's food program